Share us our Success. Become an ITAC Partner now.
Grow your business by bringing your customers the best automated sales and distribution solution. Get ahead of your league and join now!
ITAC Partners Program.
Join us to create smarter and more innovative global business solutions by becoming an ITAC partner. Recognizing the crucial role our partners play in spreading, marketing and distributing our solutions to customers around the world, we here give our partners a promise to provide them with the latest technologies, best training and most advanced solution to assure they are on the right way for success, simplify doing business with us and reward them for their growth and achievements.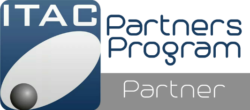 ITAC Partners Program Benefits.
▹

Empowering your business: Make more money while selling innovative, comprehensive Sell and Distribute Solutions. Our partner program is designed to help your business provide unmatched system, while assuring a profitable contribution to your business.

▹

Enabling your growth: Our partnership means that our partners are an extension of the company, so we stand by them with support, updates, new businesses and solutions… etc.

▹

Leading the industry: With ITAC, customers get industry-leading Sell and Distribute Solution that is intelligent and advanced from core to top.